The Digital Inclusion Fund supports initiatives designing, researching or delivering digital inclusion programmes in new, creative and innovative ways. It aims to improve the lives and well-being of older and/or disabled people, tackling loneliness and digital exclusion.
Earlier this year, the Down's Syndrome Association's DSActive program received funding from DCMS' Digital Inclusion Fund to develop a nutrition app, Health Swap. The app encourages positive lifestyle choices for people with Down's syndrome, while improving their digital skills. In this blog, we hear from Guy Wilcox, Project Delivery Officer at the Down's Syndrome Association, on the app's development and its impact thus far.
The Health Swap App
In July 2019, we launched the Health Swap app, made possible with funding from DCMS' Digital Inclusion Fund. The app was launched by our DSActive programme, a national programme aiming to provide as many opportunities as possible for people with Down's syndrome to lead active and healthy lives.
In a world where technology is increasingly being used, people with Down's syndrome can often get left behind. The new Health Swap App, specifically designed for people with Down's syndrome, will allow them to improve their digital skills as well as make more informed choices about healthy eating and exercise. 
In addition, we hope that the format of the app can be replicated and potentially inspire the creation of other apps to tackle digital exclusion.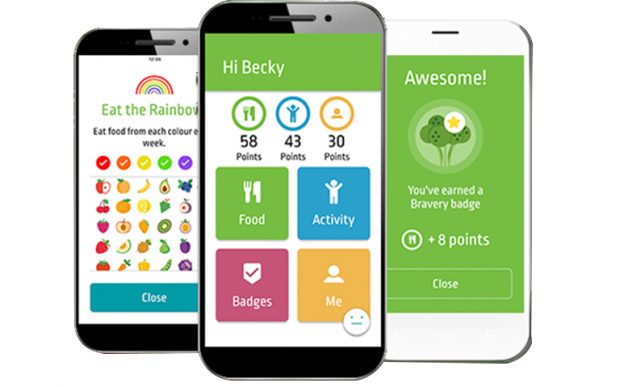 The importance of a healthy diet 
Working on the DSActive Health Swap App was a challenge I couldn't refuse and one that's very close to my heart. My eldest brother Paul has Down's syndrome and I know what a difference a healthy diet has made to him. I've worked as an app developer for many years and it was wonderful to have the opportunity to help other people with Down's syndrome improve their health and well-being.
70% of people with Down's syndrome are overweight. For the rest of the UK. this figure is 50%. Thanks to DCMS' Digital Inclusion Fund, we have another tool to help address this worrying statistic.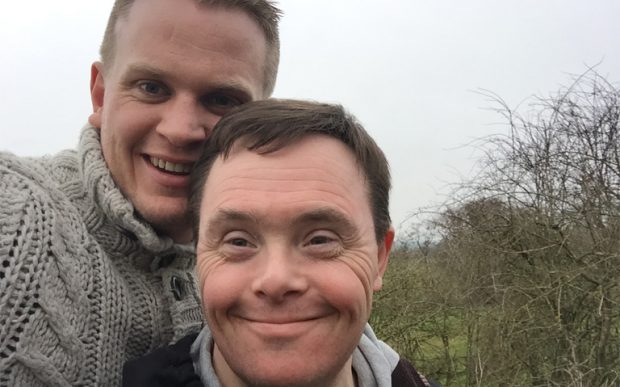 Who, what and why?
When we began the project, the first questions I considered were who, what and why:
Who is the app for?

The Health Swap app is primarily for people with Down's syndrome, as well as their parents or main caregivers.

What is the problem we are trying to solve?

The aim of the app is to help people with Down's syndrome make healthier lifestyle choices, improve their physical and mental well-being and enhance their digital skills.

Why does the user want this?

Delving into this question was particularly important for us; understanding the motivation and the cognitive capabilities of our potential users was key to effectively changing behaviour with the app design.
Considering user experience
To help get fuller answers to all three questions we set up a focus group to work with us on developing the app. We interviewed eight people with Down's syndrome who live independently, in supported living.
We asked them questions about their eating habits, nutrition and exercise, observing their cognitive and digital capabilities. We were also able to assess their ability to read and use other apps and asked them to identify pictures of healthy or unhealthy foods.
Getting the Health Swap app user experience right was a really important part of its success. We've worked really hard to make it as easy to use as possible, with large, easy-to-press buttons and carefully thought-out, simple sequences.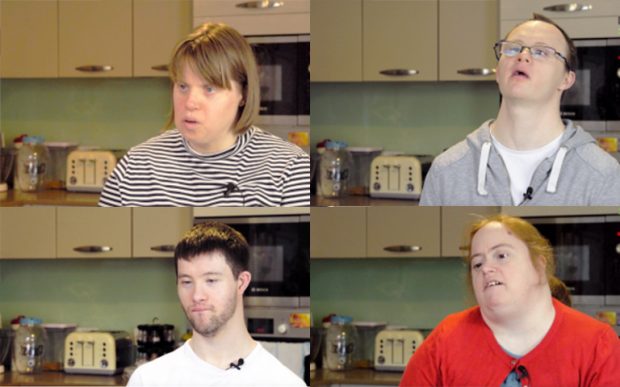 A focus on design
Our insights informed us that the app would require the following design aspects to ensure it was as inclusive as possible:
Health Swap uses a lot of visual icons. In fact, the app contains 300 food icons, many of which we've custom designed. We've also created 70 different activity icons which cover everything from swimming to sweeping.
The app then uses that information to reward users with badges and points for planning, shopping, cooking and eating healthy meals. It also tracks, records and rewards increased physical activity.
The app features step-by-step cooking instructions with clear photos and large font sizes. We've tried to keep written instructions to a minimum.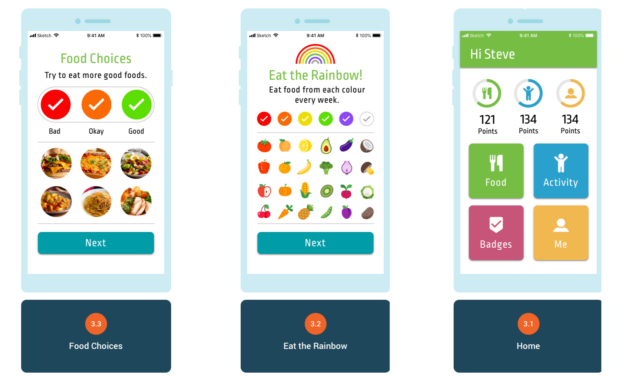 Testimonials
The app has been live for a month and has already been downloaded by over 740 users. Health Swap has received an average review score of 4.7 out of 5 stars on both the App Store and Google Play Store.
We've also received great feedback direct from users, including this feedback from Nicola, Kelly's mum:
I wanted to share these pictures with you of my daughter, Kelly, age 30. I put the app on her phone, which is glued to her hand, usually on YouTube, checking out the soaps. She thinks it's great; it's easy for her to navigate and use, and she loves ticking off the ingredients on the shopping list.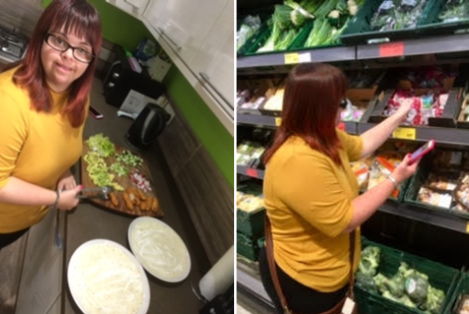 Kelly wrote to us a few days later and said:
I have been using the Health Swap app for a few days now and it is fantastic. I love choosing the meals and ticking things off the shopping list. I also like tracking all my sports. I think this is going to help me continue to make good eating choices.
We've learned some important lessons during the course of the Health Swap app's development. User involvement in the design process has been vital. Working collaboratively has ensured that the app will improve digital inclusion for people with Down's syndrome and help them make positive changes to their well-being and lifestyle.
Visit the Down's Syndrome Association website for more information on their DSActive programme. You can download the Health Swap app here.