We may not always consciously consider it, but we are more involved with the artificial intelligence world than we might think. Sci-fi film depictions of robots carrying out everyday chores and devices forming close bonds with their human counterparts may seem farfetched, but in many ways, we have an integrated relationship with technology which is designed to make our lives easier and more efficient. 
You may have noticed that your Spotify artist suggestions are tailored to your recent listening history, your phone has sent you a push notification reminding you to send a birthday card to a family member or that you rely on your Google Home or Alexa device to tell you when your dinner has finished cooking. These are all examples of artificial intelligence (AI) and machine learning, which data scientists and programmers are able to develop to support our everyday lives. 
Last year, the Department for Digital, Culture, Media and Sport (DCMS) along with the Office for AI (OAI) joined forces with the Office for Students, universities and industry partners to create a fund of up to £24 million to increase the number of highly-skilled workers in data science and AI roles. 
In this blog post, we hear from Office for Students' Helen Embleton on the new postgraduate conversion courses.
The accelerating shift to digital
The pandemic has brought challenges of its own which has provided the tech sector with further development opportunities to connect colleagues and friends, track infection rates and to provide lifestyle and entertainment opportunities while Covid-19 restrictions have been in force.  
The opportunities for innovation presented during the pandemic are just a few ways that can help to achieve government's aim to make the "UK a world-leading digital economy that works for everyone". In the UK's Digital Strategy, it is predicted that within 20 years, over 90% of jobs will require some element of digital skills. Moreover, the current skills gap in the UK is costing businesses £2 billion a year.
New postgraduate courses in AI and Data Science  
Last autumn, the Office for Students (OfS) delivered funding for 18 different universities across England to support the development of new AI and data science postgraduate conversion courses.  
The courses are expected to create at least 2500 graduates. The funding also includes £10 million to support 1,000 scholarships worth £10,000 each, to increase diversity and attract students from backgrounds underrepresented in these industries, particularly Black, women and disabled students.  
Increasing diversity in a tech world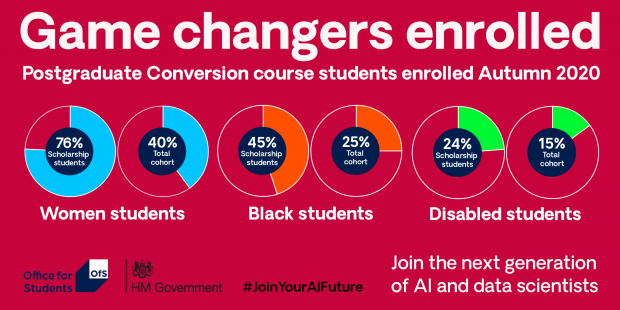 Recruitment figures from the first student intake in autumn 2020 indicate that diversity is improving. Over one in five (22%) of the total student intake were awarded scholarships. Of these, 76% of scholarship students were women, nearly half (45%) were Black students and almost a quarter (24%) were disabled students.  
The courses are widespread, with participating universities situated across England to support students in underrepresented areas. Data shows 70% of total students and 84% of scholarship students were studying on courses based outside of London and the South East to cultivate tech talent across the country and encourage strong relationships with tech businesses and start-ups within local regions. 
The government's National Data Strategy has highlighted the importance of data science to the wider economy. As the Strategy states, "we can harness data as part of struggles to tackle bias and exclusion". Data can be used to "hold a mirror up to society" to create transparency, improve our understanding of societal issues and create a fairer society for all. Within industry, improved data literacy can help drive innovation and productivity. Data-literate individuals are also more likely to benefit from and contribute to the increasingly data-rich environments they live and work in.
Lifelong, flexible opportunities to follow your ambitions into a new career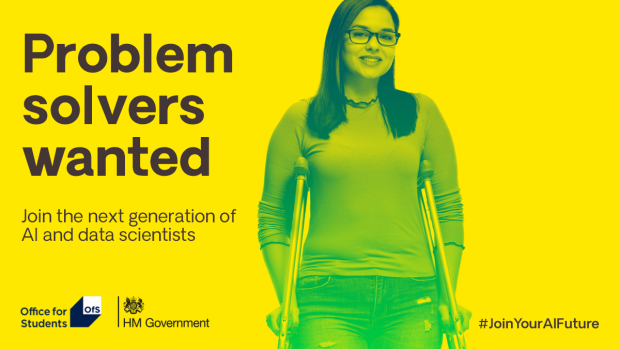 It is becoming increasingly likely that we will change careers multiple times across our lifetimes, due to a variety of different factors, including changing ambitions, available career openings, flexible working patterns that accommodate caring responsibilities, and opportunities to work abroad. 
The courses are unique as they offer flexible learning opportunities for students who are likely to have other work, caring responsibilities or mature students who may be considering retraining or upskilling for a new career. Paid work placements are also included to make these transitions more feasible for learners of different ages and stages of their lives. Universities and employers are working closely to ensure these placements continue to provide a valuable experience for students in a way that keeps them safe during the pandemic, with many adapting their offering online or delivering theory-based learning in the earlier course stages to account for time working from home.  
Pilot case studies demonstrate early signs of success
The courses are in their primary stages of their delivery, building upon previous learnings. In 2015, we piloted an Engineering Conversion Course programme with some of the universities involved in the Postgraduate Conversion Course programme such as Birkbeck, University of Salford and Solent University, among others. The evaluation put together case studies from these higher education providers which highlight huge demand for courses with recruitment figures exceeded in most cases. 
Birkbeck found that, on average, conversion course students completed better projects than cognate courses, which they consider may be a result of the heightened motivation of students who viewed the courses as a stepping stone to a better career. This demonstrates the positive benefits of encouraging students from all backgrounds to follow their ambitions and to put new skills and careers incentives at the fore of their educational experience. For example, the graduates that were successful had studied courses including product design, chemistry and a medical-based degree. The new courses intend to build on this to encourage recruits from non-STEM routes, including those who have studied languages, art and English at undergraduate level.
Find out more
Despite a challenging year, the new courses present a hopeful start to 2021. With a new cohort having begun this January, we look forward to hearing more success stories and will keep in close contact with universities to learn from the students' experiences to help inform course development and delivery. 
I encourage those who are interested to find out more on the Office for Students' website or contact us using via Twitter, Facebook, Instagram, or LinkedIn with the hashtag #JoinYourAIFuture. Applications can be made directly through the universities via links on the webpages.