Last year, TeenTech celebrated their ten-year anniversary by announcing a partnership with DCMS and the Local Digital Skills Partnerships. DCMS provided funding to support TeenTech programmes in new areas across the UK, including Milton Keynes, Leicester, West Midlands, Bristol, and Hull.
In this blog post we hear from Maggie Philbin OBE, TeenTech's Co-Founder and CEO, on their impactful work with young people across the country.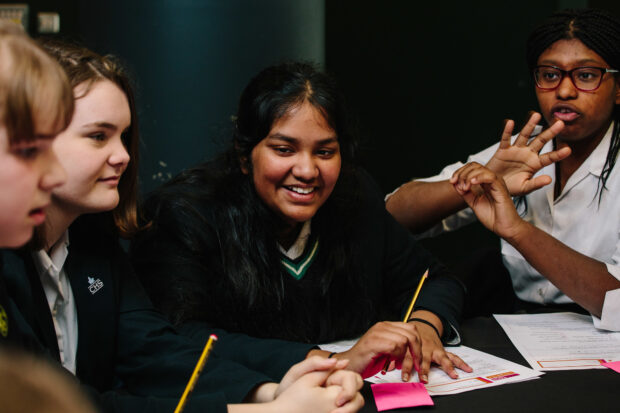 The DCMS partnership
Our collaboration with DCMS began with a keynote I gave at a government conference. It is no surprise that I planned to talk about TeenTech and the work we're doing to identify, inspire, and nurture young talent. I shared stories about the tripwires young people experience and effective ways to remove them.
In case you only know me from my wild predictions about the future on 'Tomorrow's World', TeenTech is an organisation I co-founded over ten years ago. It is now a charity working with thousands of young people across the UK.
Following this keynote, we were delighted to work with Claire Donaldson of the National Data Strategy at DCMS, Holly Ellis from the Government Digital Service, and Gary Coyle, Head of the Local Digital Skills Partnerships at DCMS, who took the trouble to see our work.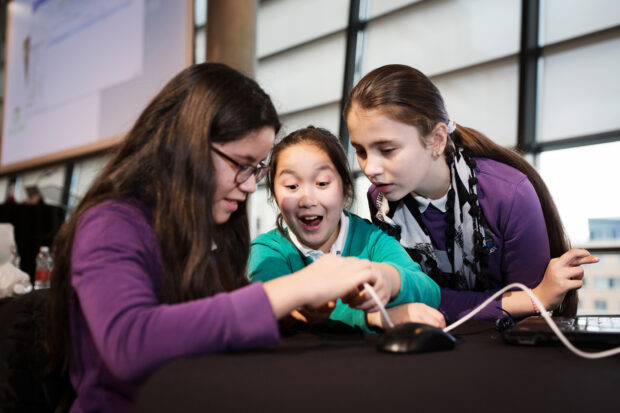 A community-driven partnership approach
All our initiatives spring from a determination to give all young people – no matter their social background, gender or ethnicity – the opportunity to access networks and support that sets them up for success in contemporary industry.
Our delivery model is a community-driven partnership approach, supporting the development of localised infrastructure for continued engagement with young people. We help companies bring to life the breadth and depth of opportunities within their sector and translate complex subjects into engaging activities.
Our programmes exist to make a difference and help young people thrive. We have worked with over 40,000 young people face to face, and many, many more through our teacher resources. But we don't do this on our own. We work with over 300 companies and 3000 volunteers, as well as councils, universities, and colleges. Collaboration is the only way to shift the dial. Indeed, TeenTech is growing and we always need more volunteers!
We feel proud to work with local councils on strategies to help school communities, for example the East Hampshire Council, where a new technology park is in the works. The Council wanted to make sure jobs go to local talent, so we developed a three-year programme of activity for local schools, and we are now entering into our second year.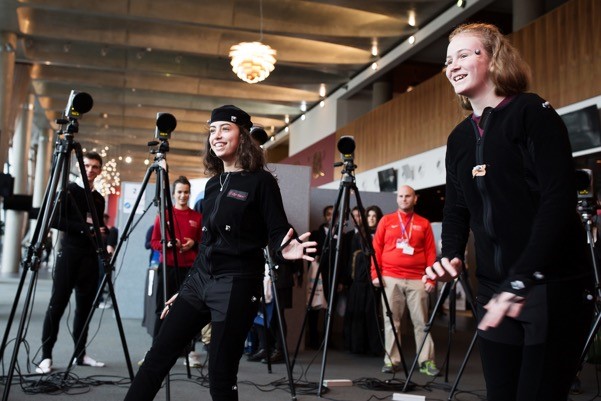 Developing core qualities takes time
People talk blithely about developing and cultivating confidence, communication skills, and creative thinking. But these things cannot be addressed with one-off engagements. We believe we can shift thinking over a three- to five-year time frame in a school community, which is why we provide students with a series of ongoing interventions throughout their school career.
The story of Evelyn Grace Academy in Brixton demonstrates how impact rapidly grows. They started with ten pupils attending our London Festival. After two years of starting the TeenTech Awards at the Academy, they noticed a substantial increase in the number of students taking GCSE Computer Science as their first-choice subject.
Teacher Sumair Mohammed says, "Before we did the programme there were only 12 students in our CS class – now the majority of Year 9 students select the subject." Beyond this, Sumair credits TeenTech with creating a huge shift in the ambition, self-belief, and confidence of his pupils, as well as improving academic performance.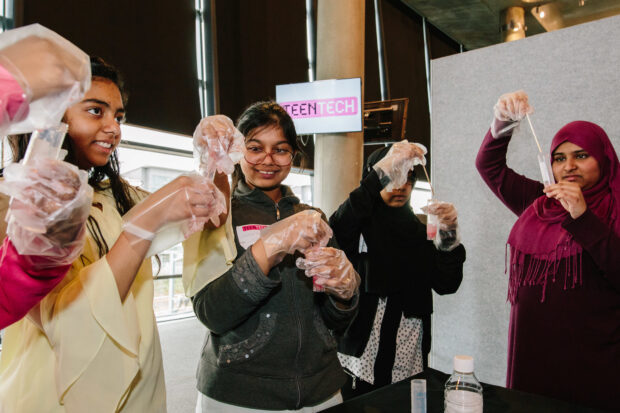 Five new regions for TeenTech events
DCMS awarded us a grant to set up festivals with related year-round activity in five new regions where we were not already active. We chose Bristol, Humber, Leicester, West Midlands, and Milton Keynes, all areas with social disadvantage.
Alongside the festival days, bespoke programmes were developed for each region, creating hubs with year-round activity, including in-school workshops, events with industry, and global mentoring support through the TeenTech Awards. We strongly believe that it is not about one-off events, but a coherent series of powerful interventions.
We consulted carefully with regional groups to ensure we embarked on what was most needed. A wide range of school workshops, innovation days and festivals have already run in Leicester, Milton Keynes, Hull, and Bristol with an exciting Innovation day coming up at MIRA Technology Institute in November.
It has been very gratifying to see the excitement and energy already generated by the activity across all five regions. All regions are very keen to continue in 2020 and fundraising for this has begun.
'An amazing opportunity to inspire our students'
Across Leicestershire, 460 students took part in school workshops to design their "safer, kinder, smarter TeenTech City of Tomorrow", which they showcased as part of the East Midlands Festival day on October 24th. This programme surfaces the 'invisible' jobs powering the connected city of the future and helps young people understand the skills needed to shape the world they want to live in.
The Festival brought together primary and secondary schools to meet the most exciting companies in the region, providing plenty of inspiration for TeenTech Award projects. There were 40 different workshops, featuring autonomous cars, space hardware, the use of VR to design rockets, and the programming of robots to navigate the surface of Mars.
Tracey Waterfield, Employment Hub Manager at Leicester City Council, described TeenTech as "an amazing opportunity to inspire both our primary and secondary students" which widens "access to great career opportunities based right here in the city".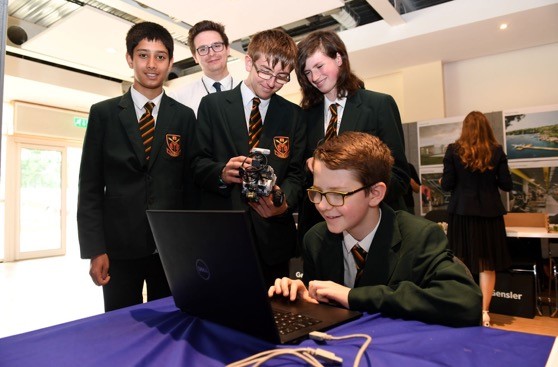 The Milton Keynes Festival day, in partnership with Milton Keynes College, ran at capacity, with brilliant feedback from both schools and participating companies. Teachers said they hadn't attended "such a fabulous school trip in years" and were impressed with the products pitched by students, ideas, they said, that "far exceeded our expectations". They shared stories of students arriving back in school excited to tell others about their experiences.
It was gratifying to receive equally enthusiastic feedback from students and teachers after the TeenTech Bristol Festival (match-funded by Rolls Royce and Kinneir Dufort), who appreciated the sheer quality and variety of the workshops, covering everything from cyber security and electric passenger planes to drone deliveries of medical equipment.
In Humber, over 900 students participated in our 'Create Your Future' workshops, with 24 schools and 30 companies taking part in a lively day of challenges and experiments at the KCOM Stadium.
An independent report by the University of Hull Federation of Regional Colleges for Engagement observed "good planning, high quality resources and delivery" and "high levels of enjoyment and engagement in the activities", making particular note of the positive effect on girls and those from lower-ability groups.
Over 50% of the secondary schools who attended our festivals immediately signed up for the TeenTech Awards. Primary schools will be running the TeenTech City of Tomorrow project before our next set of festivals, already scheduled for 2020.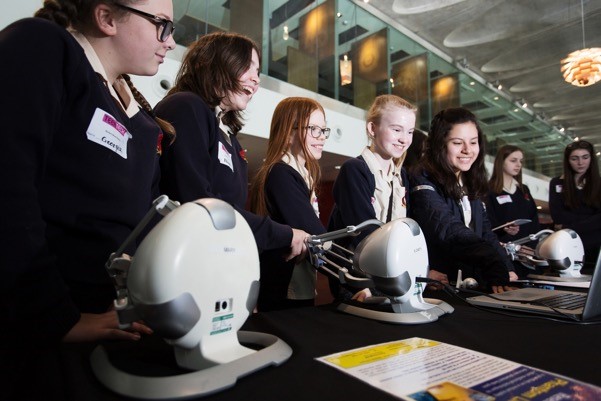 Help us make a difference
We are really proud of the impact that has been achieved so far, but this is just the beginning. We want to build upon this work across all the regions. If you are reading this, whether you want to volunteer, provide much-needed funding, host workshops, or find out more, please do get in touch at info@teentechevent.com. We would love to hear from you.
Schools can access free resources, and invitations to Innovation days and live events, by registering for the TeenTech Awards or TeenTech City of Tomorrow programmes.