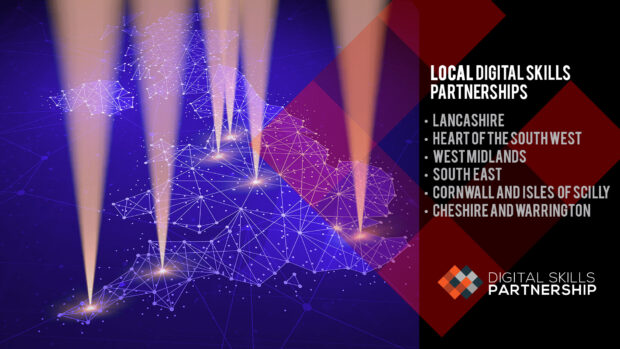 Local Digital Skills Partnerships (Local DSPs) bring together regional businesses, large employers, charities, and public sector organisations to tackle local digital skills challenges. Supported by corporate partners and other government departments, these partnerships are working to build thriving and inclusive local economies. 
Introducing the 3 new Local Digital Skills Partnerships
We're delighted to announce that we will be supporting an additional 3 Local Digital Skills Partnerships (Local DSPs) in the following Local Enterprise Partnership (LEP) regions:
South East

Cornwall and Isles of Scilly

Cheshire and Warrington

These 3 regions form the next wave of Local DSP trailblazers to be established across the country. Last year saw the launch of the first phase of Local DSPs in Lancashire, Heart of the South West and West Midlands Combined Authority. This brings the total of Local DSPs to 6, which the government has committed to supporting to develop this 'test and learn' phase. The 3 new Local DSPs will be officially launched in their respective regions in the coming months.
How were the new Local DSPs chosen?
Expressions of interest were received from 14 regions, submitted via Local Enterprise Partnerships (LEPs). The final selection was agreed by a cross-Government panel including the Department for Digital, Culture, Media and Sport (DCMS), the Ministry for Housing, Communities and Local Government (MHCLG) and the Department for Education (DfE), before final agreement from the Minister for the Digital and Creative Industries.
The 3 new Local DSPs presented strong and compelling cases for receiving support. Each of the 3 LEPs detailed the challenges being faced in their regions, ranging from a rural population and unemployment to homelessness and skills levels failing to keep up with the national average. The three LEPs have also developed robust digital skills and inclusion strategies, supported by a wealth of data. As a result, they were able to outline how a Local DSP would help fast-track the development of innovative digital skills provision to tackle their regions' challenges.   
All 3 LEPs identified a number of exciting vanguard projects to be developed under the Local DSP. These include:
A Skills Portal featuring local jobs, careers and training information for individuals and businesses

A 'Returnship' Programme, supporting people to up-skill or retrain to enter the digital sector

A Digital Outreach Programme in secondary schools to run tech jams, support code clubs and provide work experience opportunities to students

A Digital Academy focusing on developing skills for business

A Women in Tech project

A Virtual Centre for Tech to develop training to meet the needs of local learners, with a strong focus on digital and STEM skills
Local Industrial Strategies
The government's Industrial Strategy sets out a long-term plan to boost the productivity and earning power of people throughout the UK.
LEPs and Mayoral Combined Authorities across the country are developing Local Industrial Strategies, due to be in place by spring 2020. We expect Local DSPs to complement the development of Local Industrial strategies, and we will be working with all six regions to ensure the Local DSP aligns with their strategic aims.
Crucially, our trailblazer regions are committed to openly sharing data, tools and practice so that other regions can choose to benefit from their learning in developing a Local DSP as part of their Local Industrial Strategy.
How are we supporting the Local DSPs?
The Local DSPs will be the mechanism for delivering a regional digital skills action plan. Over the next few months we will be working closely with all 6 regions to develop the partnership, identify the needs of local economies and communities, and facilitate the delivery of targeted digital skills training.
As part of our commitment to each of the new Local DSPs we are also funding the appointment of Regional Coordinators for an initial period of 12 months. They will be engaging with local and national stakeholders to coordinate existing and new initiatives in their regions. The coordinators are responsible for developing and delivering the Local DSP, but we will support them with advice, analysis, evaluation and introductions to industry and civil society partners.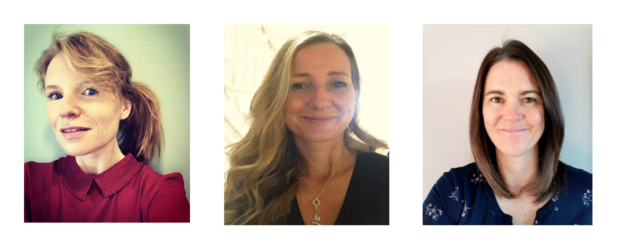 The Regional Coordinators for the existing 3 Local DSPs launched in 2018 (Lancashire, Heart of the South West and West Midlands Combined Authority) are now in post and are already spending one day per month at DCMS to share local intelligence and meet national stakeholders. These regular meetings will also enable us to share thinking on current government digital skills policy. Each of the first 3 Regional Coordinators have started posting on this blog, and will continue to do so as their Local DSPs develop. You can read their introductory posts here:
Charlotte in Heart of the South West   
Catherine in the West Midlands