Dr Anne-Marie Imafidon MBE is the Chief Executive Officer of Stemettes, an award-winning social enterprise working across the UK & Ireland and beyond to inspire and support young women into Science, Technology, Engineering and Maths careers (STEM). Anne-Marie is also on the Digital Skills Partnership Board. Here she talks about the Press for Progress.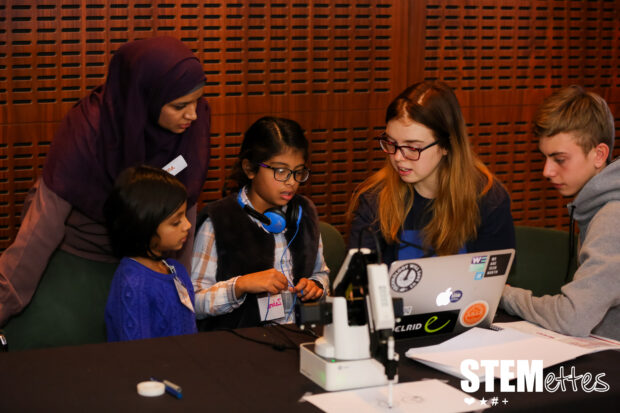 As we celebrate Votes100 it's been fascinating to cast an eye back on how society has changed in the space of a century. Extended suffrage has advanced society & policy. The roles, importance and respect of women has come on leaps and bounds. In the same timeframe digital has gone from niche to ubiquitous and the way society functions is almost unrecognisable. We use digital platforms to interact with government departments and to find the best route to get around. It now touches almost everything we do.
International Women's Day
The theme of this year's International Women's Day celebrated today is Press For Progress and in the digital context this is embodied in the Digital Skills Partnership's (DSP) aim of Digital Skills for all. Progress on digital skills in our society means ensuring digital skills support is available to all, irrespective of not only gender, but region, age and previous work experiences. A conscious effort to intentionally include across the public, private and third sectors means that years of unintentional exclusion across this space will start to end.
I've spent the last 5 years Pressing for Progress on the stereotype that girls don't do technical things. Coupled with the low percentages of female participation in the tech sector, this social norm has built up across media portrayals, toy marketing, kitchen conversations and classroom chatter. Through Stemettes we've worked hard to give 37,500 young people formative experiences, shifting their perspective on what the opportunities in the sector look like. They've met women in tech and have got hands on with digital skills. Across a series of panel events, hackathons and mentoring sessions we're seeing their perceptions and awareness change, as well as their digital aspirations & confidence.
Stemillions
The macro change needed won't come from policy alone but collective actions. This is core to the DSP's mission, and also to the next stage in our Stemettes work. We're empowering girls and young women to be leaders and an inspiration for others by running STEM (Science, Technology, Engineering and Maths) clubs in their local & school communities. Stemillions clubs, as we've called them, are an opportunity for young women to be the change they want to see in the STEM world. These initiatives are empowering girls - called Chief Stemillions Officers - from Edinburgh to Isle of Wight, to press for progress on behalf of those around them.
Intentional inclusion
The options for adults abound. Recently the Department for Digital, Culture, Media and Sport (DCMS) itself became the first government department to sign the Tech Talent Charter - something that Stemettes has been involved with from its inception. It's an industry wide collective action to intentionally include via best practice in recruitment & retention. A good charter with public pledges that will bring the right kind of progress for inclusion within the tech industry.
Digital Skills are important for life in the 21st century but not just for those working in industry. The future is here, not quite evenly distributed, and we're not far off Wi-fi fridges and driverless cars being part of everyday life. Digital literacy will separate the haves from the have nots in a way that adds an extra dimension to existing social levers. Pressing for progress now will ensure we all move into the future together.
Diversity
The opportunity presented in such progress together is huge. As well as the economic and business reasons for more diverse teams, innovation is the biggest upside. Innovations come from new perspectives, new ideas and the right environments. The technology itself is only as important as how well it is adopted. Voice recognition took decades to take off due to restrictive early datasets. Early seatbelts and airbags killed the women and children they weren't modelled on. New AI software is struggling to accurately analyse the facial features of different ethnicities. Innovations that are inclusive do much better. Diversity is important in any industry - and STEM especially. We can't have women leaders, if they're not joining the industry, or lack technical awareness & skills. Diversity of thought leads to innovation. From what I've seen with our Stemettes, I'm excited about what life will look like in 100 years with proper digital inclusion.
You can find out more about our work at stemettes.org/contact
Tweet us (we're constantly on Twitter) or email us directly on stemettes@gmail.com. Our Press for Progress continues.