Digital Skills and Inclusion policy is devolved to the nations, so the DSP covers English regions. However, we actively engage with partners from across the UK and beyond to exchange best practice and share approaches. This post is an example of just that. In this blog Paul Kelly, Senior Information and Learning Services Manager at Libraries NI discusses their Digital Citizen Project: Get Online, Stay Connected, which has been successfully tackling the digital skills deficit in Northern Ireland.
The Digital Citizen Project: Get Online, Stay Connected
Libraries NI is the largest public library authority in the UK. It serves the entire population of Northern Ireland which means it is uniquely placed to help address digital exclusion issues. The Digital Citizen project delivered by Libraries NI and funded by the Northern Ireland Department for Communities tackled the serious digital skills deficit in Northern Ireland by delivering digital learning opportunities across the Libraries NI network and in community settings.
What is a Digital Citizen and The Digital Citizen Project?
A Digital Citizen has the skills required to use digital technology purposefully and confidently to communicate, find information, purchase goods/services, problem solve and create. These digital skills are becoming increasingly important everyday life skills with activities, services and communication channels such as shopping, banking and government services moving online.
In September 2018, with funding from the Department for Communities, we launched the Digital Citizen Project to deliver the skills needed.  There are 96 public libraries in Northern Ireland, which we work closely with, in addition to local councils to help address issues such as digital exclusion.
The project came in response to research by Citizens Online on the digital landscape in Northern Ireland which showed that 18.8% of the population have never used the Internet while 32.2% of the NI population aged 16 - 65 years have low or no digital skills.
The importance of the library network
Through the Digital Citizen Project, we wanted to demonstrate that libraries are uniquely positioned between communities and government to help adults to:
improve their safe use of online services

improve their health through improved skills and communication

improve their personal confidence and problem solving skills.
We targeted adults in rural areas, areas of significant deprivation (neighbourhood renewal areas), adults with disabilities and retired and older people. Our target was to deliver 2,000 learning opportunities within six months.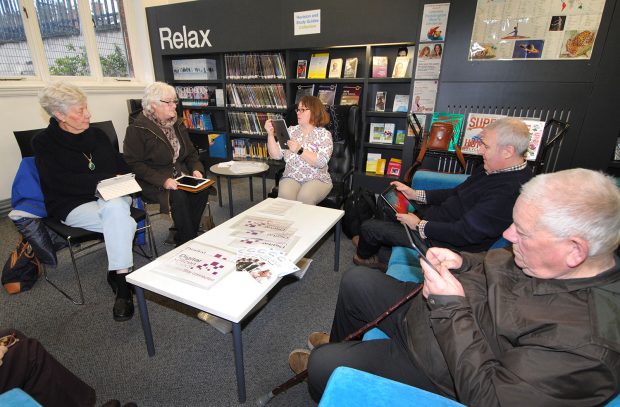 The Delivery Model (or 'how we did it')
Six trainers located throughout Northern Ireland were tasked with the provision of the learning opportunities in libraries and outreach settings over a six-month period.  This team delivered free tailored training programmes, group sessions and one-to-one support which were promoted as eClinics.
They worked with groups and individuals to establish what their needs were and their preferred learning styles. This agile approach allowed a vast array of topics and formats of delivery to be covered. A key success was the way trainers established relationships with groups and communities. We found the most popular were:
eClinics

: phone settings, e-mail, password help

Group Sessions

: introduction to the iPad, scam awareness

Short Courses

: taking and editing photos on an iPad, keeping yourself and your children safe online – privacy and security settings
Outcomes
The project exceeded the targets and we know a major part of the success was in the flexibility of delivery and targeted outreach.  
Evaluation follow up has identified some additional outcomes below:
23% felt less isolated

47% felt enabled to communicate better with family and friends

17% felt it impacted positively on their well-being.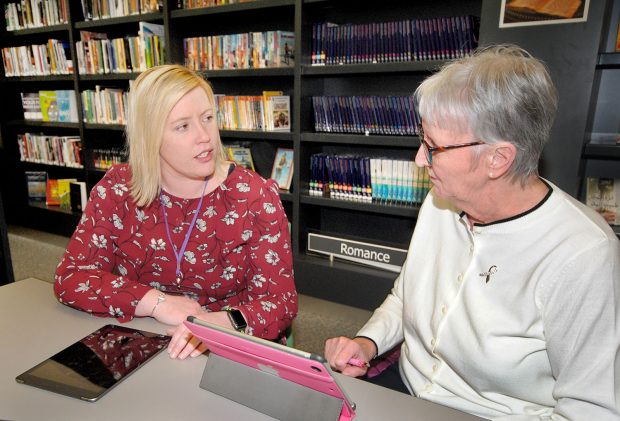 Testimonials
It is the stories that really highlight key successes of the project and the real impact to the individuals who received training. Below are some testimonials from those who were part of or participated in the training programme.
"The iPad course delivered by Joanne from Libraries NI, has been a resounding success. Each one of our service users who have taken part, have loved how much fun and how accessible the iPad is. These devices have already helped build their confidence and have taught them the skills they need to learn how to thrive."
---------------------------------------------------------------
"Having been through a lot of health problems and feeling isolated - going along to these digital help sessions has really given me a new lease of life. I am now able to go on YouTube and watch 'how to videos' which helps me around the house. I also like to listen to music and I was shown how to use YouTube and Spotify. All through a 45 minute 'eClinic' session.''
---------------------------------------------------------------
"I went along to one of Karen's iPad sessions and found it really useful. A priest friend of mine moved to California and Karen showed me how to use the internet to go online and watch his church services by live streaming on the church website. It makes me feel connected and happy to be able to see him.''
-----------------------------------------------------------------
For further information follow us on @LibrariesNIDCP